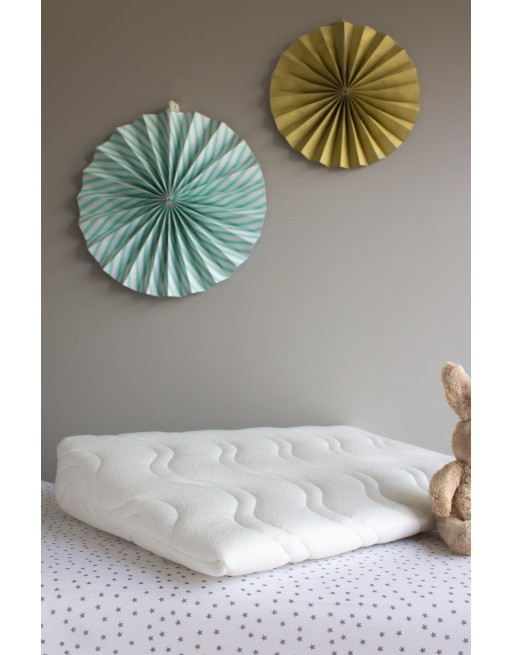  
Inclined plane Aloe Vera removable cover for bed 60 x 120cm
An inclined plan for baby cot 60x120 cm to place on the upper part of the mattress to help baby to breathe when he has a cold or when he suffers from regurgitation and help him to sleep better.
Product Details
A 60x120 cm inclined baby bed plane, made of polyurethane foam, covered with a polyester cover induced with Aloe Vera, ideal for the sensitive skin of very young babies.
The inclined plane is designed to relieve babies who suffer from regurgitation while sleeping but also to facilitate their breathing when they have a cold.
The inclination of the inclined plane is 15°, ideal for ensuring a quality sleep for your baby while allowing him to remain well positioned in his bed.
Aloe Vera, very gentle on sensitive skin, is recommended for babies who tend to have allergies. This soothing natural material is perfect for welcoming baby during his first nights, which can sometimes be difficult.
The inclined plane must be placed on the upper part of the mattress.
The little extras:
- Certified Oeko-Tex, to provide baby with seine nights
- Removable cover for easy maintenance (machine washable at 40°)
- Aloe Vera cover for greater respect for sensitive skin

Dimensions: 60x10x10x40cm


The inclined plane fits on all our baby mattresses 60x120 cm.