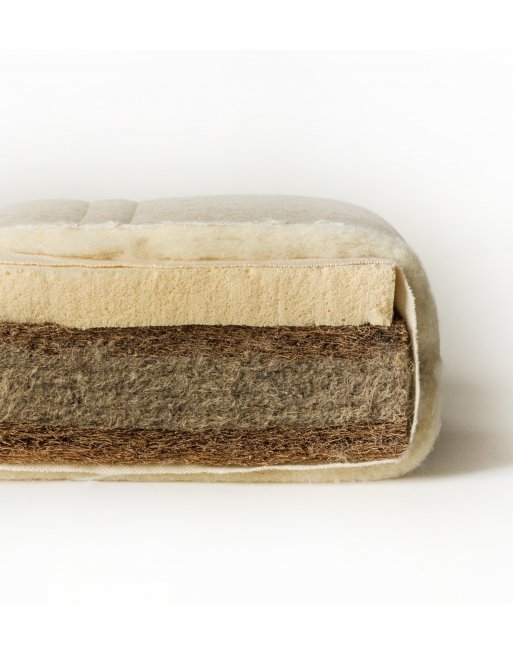  
Chanvrenatura® Baby Mattress
Natural and more local materials - Ultimate comfort - Reduced carbon footprint - No glue or chemical treatment

The Chanvrenatura® baby mattress is the exceptional natural mattress you dream of offering your baby for his first nights. An authentic style and a choice of materials for a healthy and eco-responsible mattress.
Product Details
Reference

MACHANA01

ean13

3701205529989
A high quality natural baby mattress
The Chanvrenatura® mattress is the ideal baby mattress for parents who are looking for an ultra-comfortable natural mattress with a
high-endfinish.
Made of a 100% natural core combining hemp, coconut fiber and natural latex, this mattress is the most
natural of our range.
A premium mattress that combines all the qualities to ensure a safe
and ultra-healthybedding for the little ones.

The Chanvrenatura® baby mattress offers a firm bedding, recommended by pediatricians, with a soft welcome provided by a
3 cm layer of latex.
It is covered with a Tencel? and linen cover with organic wool filling, natural materials that ensure
optimalcomfort
for toddlers..
Breathable materials for a healthier sleep

The heart of the Chanvrenatura® mattress is composed of coconut fiber, hemp and a layer of latex on the surface, a
perfectcombination for good air circulation between the fibers.
This good ventilation of the mattress ensures an optimal and constant sleeping temperature for baby. Thanks to this mattress
, toddlers who have difficulty regulating their temperature, sweat less and wake up less during the night.
Baby sleeps
at the ideal temperature, he sleeps better.

The breathable qualities of this mattress are accentuated by a quilted cover in Tencel? and linen with woolbiological quilting
. A combination of noble materials, all recognized for their thermoregulatory virtues.
Thanks to the choice of breathable materials, this baby mattress is naturally anti-mite and anti-bacterial without the need for
chemical treatment.
The excellent circulation of air between the fibers of the mattress allows to keep a healthy mattress,
without condensation or development of moulds.

The natural aeration of the mattress prevents the proliferation of dust mites and bacteria and avoids their fixation. The choice of these natural breathable materials guarantees you a healthy mattress, free of moisture and mold, without any chemical treatment
. Your child sleeps on a ventilated mattress and enjoys a perfectly healthy environment in his room, without any
harmful substances.

The Chanvrenatura® mattress contains no glue or chemical treatment and is OEKO-TEX® certified.
A reduced carbon footprint
During the manufacturing of the Chanvrenatura® baby mattress we have chosen natural materials, with breathable and
thermoregulatingqualities
, produced locally. The hemp and linen we use are produced in France and the wool comes from
Italy.
By using natural materials produced more locally, we reduce the carbon footprint on our mattress and aim to
be ever more responsible.
The little extras :
- The most natural mattress in our range
- Elegant finishes and details
- Delivered in a cardboard box, zero plastic
- Mattress equipped with handles for easier handling, especially for turning it over or changing the cover
.