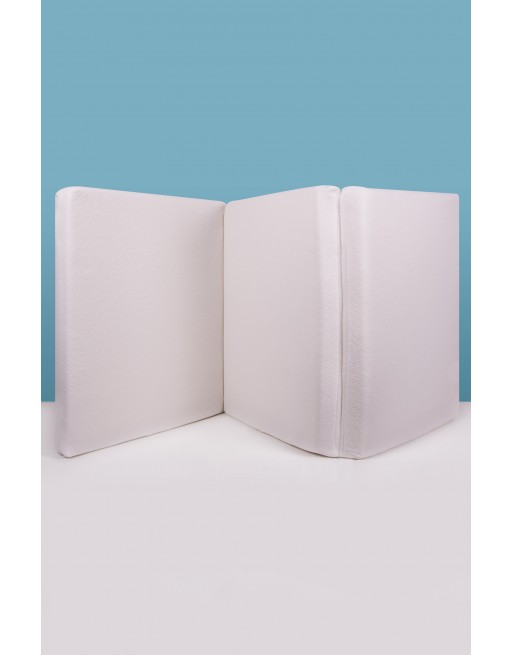  
Folding Baby Mattress in 3 Parts Aloe vera, 60 x 120 cm
A folding travel mattress Aloe Vera for baby to offer a healthy bedding without added chemical treatment and respectful of sensitive skins even on the move!
Product Details
Enhance baby sleeping comfort while on the go with a soft, comfortable Aloe vera travel mattress. The Kadolis folding mattress gives babies a "home-like" comfort with a thickness of 6 cm. This foldable 3-piece mattress is easy to carry thanks to its zipped carrying case.
The Aloe vera folding travel mattress is composed of a core of polyurethane foam with a density of 23kg / m3 covered with a 100% cotton voile. It has a polyester cover coated with Aloe Vera that soothes reactive skin and is prone to allergies. Aloe Vera is a totally natural material whose effects are recognized for fragile skin.
In this case the polyester, naturally fireproof, avoids the addition of chemicals. This cover is completely removable thanks to a large zipper, it is machine washable to ensure children a perfectly healthy sleeping. Its enduction based Aloe vera brings a softer touch and is perfect for fragile skin of toddlers.
This mattress fits all beds 60x120 cm and can also land on the floor, it is the ideal mattress for weekends, holidays, when friends sleep at home. You can also use it to protect your child from cold soil when playing in their bedroom or living room.
This baby travel mattress is guaranteed without added chemical treatment and OekoTex certified.
Dimensions: 60x120x6 cm
The little extras:
- Mattress completely removable, allows a regular washing of the cover
- Folding 3 parts ultra simple
- Comes with zipped carrying case
- Enduction with Aloe vera for sensitive skin
Do not forget to cover your travel mattress with a 2 in 1 fitted sheet, a single product that provides double protection, very convenient on the move!
Mattress conforming to the requirements of Decree No. 2000-164 of 23 February 2000